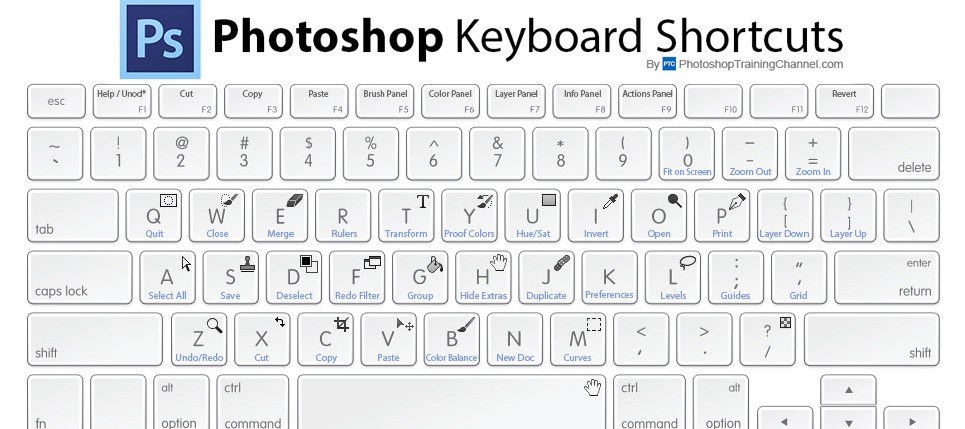 I find this post very useful for all of you photoshop fans.
Although the pictured keyboard above is a Mac Keyboard, all of these Photoshop keyboard shortcuts will work for Windows as well.
Simply make the following substitutions:
Mac: Command = Windows: Ctrl
Mac: Option = Windows: Alt
Mac: Delete = Windows: Backspace
Mac: Control = Windows: Right-Click
[google_ADS type='mid-ad-post']
Must-Know Keyboard Shortcuts!
The following are 22 of my most commonly used Photoshop Keyboard shortcuts. These are simple commands that are pretty easy to pull off, and they will certainly speed up your productivity and workflow.
Save As: Command Shift S
Save for Web: Command Shift Option S
Undo: Command Z
Step Back: Command Option Z
Duplicate: Command J
Duplicate all visible Layers: Command Shift Option E
Hide Extras: Command H
Full-screen: F
Default Colors: D (black and white)
Flip Foreground and Background colors: X
Hand tool while in another tool: Hold Spacebar
Fill with Background color: Command Delete
Fill with Foreground color: Option Delete
Open Fill dialog box: Shift Delete
Decrease/Increase Brush Size: [ or ]
Deselect: Command D
Restore Last Selection: Shift Command D
Move tool while in painting tool: hold Command
Eyedropper while in any paint tool: hold Option
Cross-Hair Cursor on any painting tool: Caps Lock
Lock transparent pixels: / (back slash)
Commit edits when typing: Command Return
About Brief Photoshop Keyboard Shortcuts
PSD Name:Photoshop Keyboard Shortcuts
PSD Description:
Photoshop Keyboard Shortcuts
PSD:
Photoshop Keyboard Shortcuts
PSD ID:
SKU: Photoshop Keyboard Shortcuts
Source: photoshoplightroomgroup.com
8,786 total views, 5 views today